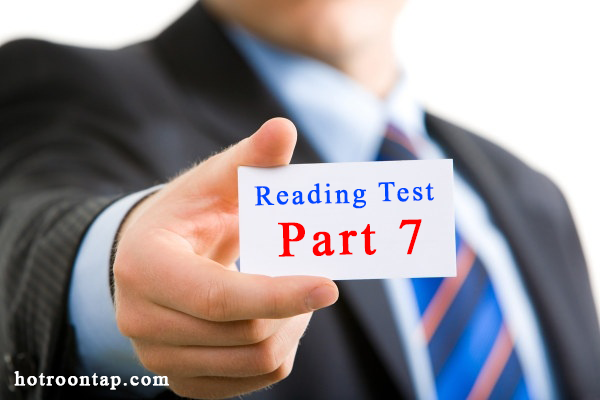 READING TEST
In the Reading Test, you will read a variety of texts and answer several different types of reading comprehension questions. The entire Reading test will last 75 minutes. There are three parts, and directions are given for each part. You are encouraged to answer as many questions as possible within the time allowed.
You must mark your answers on the separate answer sheet. Do not write your answers in the test book.
Part 7 - Hội Thoại Kép
Directions: In this part, you will read a selection of texts, such as magazine and newspaper articles, letters, and advertisements. Each text is followed by several questions. Select the best answer for each question and mark the letter (A), (B), (C), or (D) on your answer sheet.
---
Một số bài Thi Thử Toeic Khác
Lưu ý: Nhấn Nộp bài, Kiểm tra xong Đáp Án Mới Click vào mục bên dưới!
Thi Thử Toeic Online – Full Test
Thi Thử Toeic Online – Listening Test Part 1
Thi Thử Toeic Online – Listening Test Part 2
Thi Thử Toeic Online – Listening Test Part 3
Thi Thử Toeic Online – Listening Test Part 4